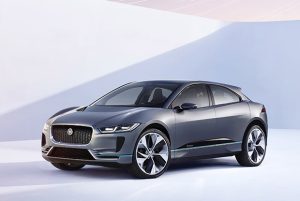 However, it will only be a starting point for zero tailpipe emission cars in Thailand where there's barely a recharging infrastructure despite promotions being hollered on BEVs by the local government.
The first two BEVs that should reach Thai showrooms include the Jaguar I-Pace and Audi e-tron SUVs with both already being previewed in near-production concepts since late 2016.
According to sources, the decision by companies to base their first BEVs on mid-size SUVs for series production is due to the price point that can help absorb the costs of new technologies. Such a body style is also easy to sell these days due to growing sales of the SUV.
Models like the conventionally powered Audi Q5 and Jaguar F-Pace range from 3-5 million baht in Thailand. Pitching a luxury BEV into a bigger package costing above that price level would also reduce its reach and appeal among early adopters of such vehicles.
That's why BMW and Mercedes-Benz are planning to make their first BEVs with mid-size SUV proportions in 2019 (see sidebar below). Porsche is also rumoured to be making an electric version of the Macan after the Mission E saloon. All these European BEVs are targeting the Tesla Model X.
Unlike the pioneering BEVs of yore, the new generation is set to come with better lithium-ion batteries for longer driving distances and quicker charging times. The new norm is now claimed at around 500km with the figure eventually rising after 2020 thanks to even more advanced tech like lithium air and solid state batteries.
Even so, a BMW engineer said that the lithium ion type should still be relevant for the next 10 years.
With such a touring range, drivers using BEVs for the daily grind won't necessarily have to rely on a charging infrastructure because they can return home and charge their cars overnight.
"If you consider that potential buyers [of luxury BEVs] are most likely to have several cars in their garages, they will certainly be able to find the time [to fully charge their BEVs]," noted an executive of Audi. "On the other hand, [BEVs] whose energy hasn't been completely drained out (due to improved batteries) at the end of the day can be recharged in faster times."
There's also a new trend forming whereby sellers of BEVs offer different battery sizes depending on what kind of price, performance and range the buyers want. The e-tron, for one, was shown in concept form with an electric drivetrain driving all four wheels capable of nearly 500hp and 500km.
Selling BEVs at such an early stage allows manufacturers to understand the usage behavior of buyers. In addition, Thailand is known for its hot climate and notorious traffic jams, two key factors that reduce driving range.
Many testers from the Thai automotive media noted that cars with plug-in ability usually achieve no more than 60% in real-world driving of what's being claimed on paper by manufacturers.
In spite of some benefits seen in selling BEVs with posh names, Nissan hopes to become the first mass-market brand in Thailand to officially sell a BEV. The second-generation Leaf is set to go on sale toward the end of the year with some kind of tax waiver.
Although Kia introduced the all-electric Soul last month, it's a very small brand in Thailand that has not shown any official intention yet of building BEVs in the country. Tax exemption is said to be given to only BEV makers that commit themselves to Thai production in the mid-term. 
While the Soul BEV goes for 1.99 million baht, the Leaf could cost far less at just over one million baht if Nissan plays along with the BEV game laid out by the government. Under Japan's JC08 driving mode, the Leaf has a 400km driving range.
Apart from thinner margins than premium BEVs, mass-market brands have a far wider dealer network that would require more investment in training. When asked whether Nissan would make any money out of selling BEVs in Thailand, a top executive said: "It's very difficult to tell."
Some Chinese brands are also keen in selling BEVs here due to a free trade agreement it has with Thailand. Critics, however, have pointed out at their brand credibility is not at the same level with other established nameplates.
Cr. Bangkokpost.com